Sponsored By
A Unique Streaming Event
We are revolutionizing how humans interact with sound and music. Tune into leaders of sound, energy, frequency and vibrations.
watch live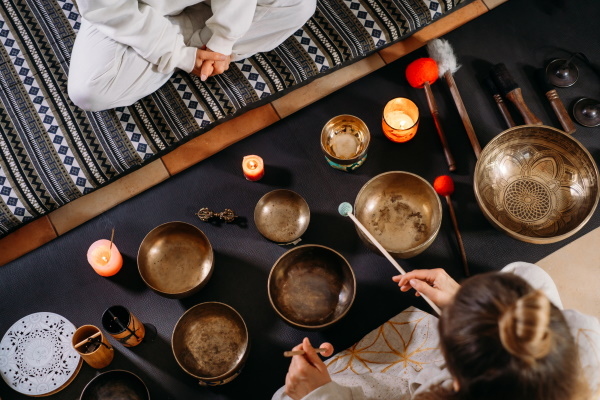 FAQ
Frequently Asked Questions
---
Got questions? We've got answers. If you have other questions, email us.
What in Sound Healing Hour?
The #SoundHealingHour is a global, monthly recurring event where Sound Healers from all of the world livestream their sound bath and sound healing ceremonies over their existing social media profiles with 1 thing uniting them - the use of the #SoundHealingHour hashtag.

Our objective is to reach a massive participation from the sound healing community so that our hashtags become a trending topic and we will "Break the internet". We believe that if we are able to inspire such a wonderful community to share their love and practice with the world, together we will be able to impact lives all around the world and do our part in world healing.
How can Healers participate in the recurring event?
Participation is easy and FREE. If you are a sound healer all you need to do is live stream your ceremony on your own social media profile and use the hashtags #SoundHealingHour We will amplify and share as many performers on our own profiles as we find them.

We believe in the philosophy of "Rising tides raises all boats" - meaning the more attention we can generate for the practice of sound healing - the larger the community and demand for the services will rise.
Why on Tuesday?
Since Tuesday represents willpower, determination, strength and courage we want these feelings to accompany our healers as they join forces to change the world. Further Tuesdays are associate with competition, productivity and effectiveness which we hope will help the events be well received by our collective audience.
How can viewers tune in and watch the Sound Healing Hour?
Every Tuesday at 9am EST log on to your favorite social media platform and search for the hashtag #SoundHealingHour - as you start seeing results come up on the search choose the provider you would like to watch and enjoy the ceremony.
Why 9:00 EST?
9am EST is the moment where the largest amount of people are awake all around the world!
As a Sound Healer - what can I gain by participating?
Aside from taking part in a historic effort to break the internet, as a healer you can gain:
1. Exposure - allow people from all over the world to find and follow you!
2. Friendships - network with other healers through our groups
3. Specials- from time to time we will share exclusive offers and specials.
How can I find sound healers in my area?
We have put together a portal for viewers and healers to connect - SoundHealers.net - within the portal there is a map where you can easily search for healers in your area.
Can I volunteer?
Yes - We are actively looking for people to help spread the word and grow our community. Please contact us to learn more about how you can help us grow!
Can I donate money to the project?
Yes - your donations go a long way, they help us cover costs, pay our staff and contribute to our advertising budget. To learn more about how to donate please contact us.